Manzanar, (1942-1944), 2011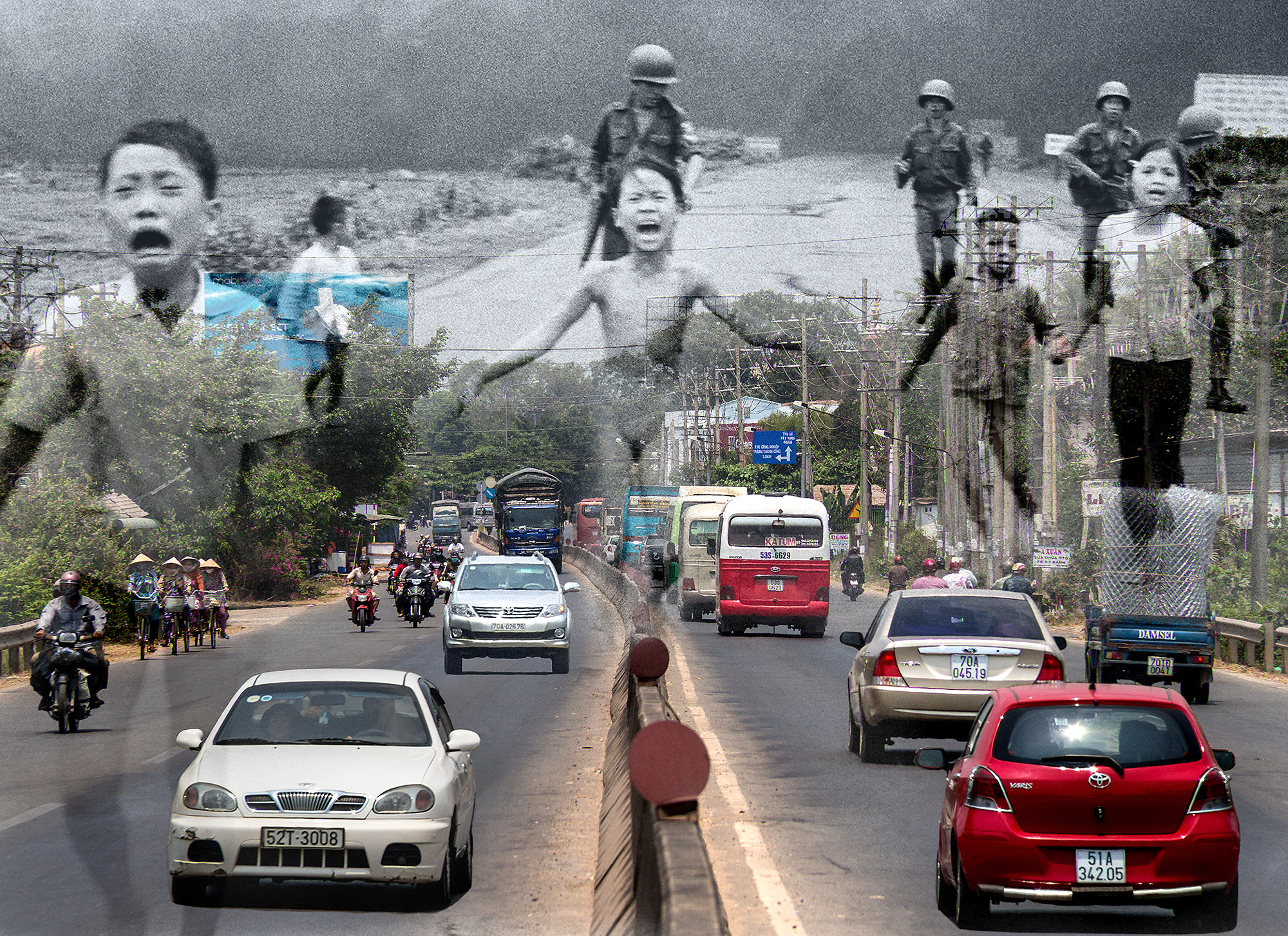 Trang Bang, (June 8, 1972), 2014
Monk Self-Immolation, (June 11, 1963), 2014
September 11, (2001), 2013
Hooverville, (Central Park, NY 1931), 2014
Wall Street Bombing, 1920, (2018)
Selma to Montgomery, (1965), 2013
Seattle Hooverville, (1937), 2014
Berlin, (1960's – 1970's), 2011
London, (1940 to 1941), 2012
Hungarian Revolution, (1956), 2016
Little Rock Central High, (1957), 2012
Sioux Uprising, (1862), 2017
Ebbets Field, (1955), 2016
Robert Kennedy, (1968), 2011
Hurricane Andrew (1992), 2017
Mikhail Baryshnikov, 2007
Sandra Day O'Connor, 2008
Palette Series: Dale Chihuly #1, 2008
Palette Series: Fernando Botero #1, 2004
Palette Series: Chuck Close #1, 2005
Palette Series: Chuck Arnoldi #1, (Scraper), 2004
Palette Series: David Salle #1 (Wall strokes), 2005
Palette Series: Ed Moses #1 (Sink), 2004
Palette Series: Ed Ruscha #1, (Cotton ball with pigment), 2004
Palette Series: Jasper Johns #1,2004
Palette Series: Jasper Johns #2,
(Detail of study fro "Bushbaby"), 2004
Palette Series: Jasper Johns #3
(Detail of study for "Bushbaby"), 2004
Palette Series: Eric Fischl #1, 2004
Palette Series: Red Grooms #1 (Wooden Table), 2005
Palette Series: Antonio López #1, 2007
Palette Series: Manolo Valdés #1, 2007
Palette Series: Juan Genovés #1, 2007
Palette Series: Jim Dine #1, (Floor), 2005
Palette Series: Jim Dine #2, 2005
Palette Series: Lisa Yuskavage #1, 2005
Palette Series: Luis Gordillo #1, 2007
Palette Series: Luis Gordillo #2, 2007
Palette Series: Jonathan Lasker #1, 2005
Palette Series: Juan Uslé #1 (Floor), 2007
Palette Series: Juan Uslé #2, 2007
Palette Series: R.B. Kitaj #1 (Sock), 2004
Palette Series: Robert Kushner #1 (Floor), 2005
Palette Series: Monique Prieto #1 (Transparent apron), 2004
Palette Series Artifacts: Chuck Arnoldi #2, 2004
Palette Series Artifacts: Al Held #1, 2005
Palette Series Artifacts: Al Held #2, 2005
Palette Series Artifacts: Chuck Arnoldi #1, 2004
Palette Series Artifacts: Dale Chihuly #1, 2008
Palette Series Artifacts: Ed Moses #1, 2004
Palette Series Artifacts: Ed Moses #2, 2004
Palette Series Artifacts: Jim Dine, #1, 2005
Palette Series Artifacts: Jim Dine #2, 2005
Palette Series Artifacts: Joe Goode #1, 2004
Palette Series Artifacts: Wayne Thiebaud #1, 2005
Jackson Pollock Artifact, 2007
Image: 17" X 26"
Paper: 21" x 30" /Approx.
Epson Ultra-Smooth Fine Art paper
Archival pigment Prints / Editions of 33
Wooster Wild Style Wall #1, 2007, (2017)
ooster Wild Style Wall #2, 2007, (2017)
Wooster Wild Style Wall #3, 2007, (2017)
Wooster Wild Style Wall #4, 2007, (2017)
Wooster Wild Style Wall #5, 2007, (2017)
6:30 A.M. Series 08/14/03 #77
6:30 A.M Series 01/04/03 #3
6:30 A.M. Series 01/05/03 #4
6:30 A.M. Series 01/22/03 #9
6:30 A.M. Series 01/27/03 #13
6:30 A.M. Series 02/13/03 #18
6:30 A.M. Series 03/25/03 #27
6:30 A.M. Series 03/27/03 #29
6:30A.M. Series 04/06/03 #32
6:30 A.M. Series 04/13/03 #34
6:30 A.M. Series 04/19/03 #37
6:30 A.M. Series 05/07/03 #39
6:30 A.M. Series 05/26/03 #46
6:30 A.M. Series 06/21/03 #52
6:30 A.M. Series 08/06/03 #72
6:30 A.M. Series 08/12/03 #75
6:30 A.M. Series 08/29/03 #85
6:30 A.M. Series 09/04/03 #88
6:30 A.M. Series 10/22/03 #103
6:30 A.M. Series 10/26/03 #104
6:30 A.M. Series 10/27/03 #105
6:30 A.M. Series 10/28/03 #106
6:30 A.M. Series 10/30/03 #107
6:30 A.M. Series 11/11/03 #113
6:30 A.M. Series 11/20/03 #118
6:30 A.M. Series 11/24/03 #120
6:30 A.M. Series 12/05/03 #126
6:30 A.M. Series 12/11/03 #129
6:30 A.M. Series 12/19/03 #134
6:30 A.M. Series 12/31/03 #137
Amish 3, Lancaster County, PA, 2001
Amish 7, Lancaster County, PA, 2001
Amish 10, Lancaster County, PA, 2001
Amish 12, Lancaster County, PA, 2001
Amish 13, Lancaster County, PA, 2001
Amish 17, Lancaster County, PA, 2001
Amish 23, Lancaster County, PA, 2001
Amish 25, Lancaster County, PA, 2001
Amish 26 - A, Lancaster County, PA, 2001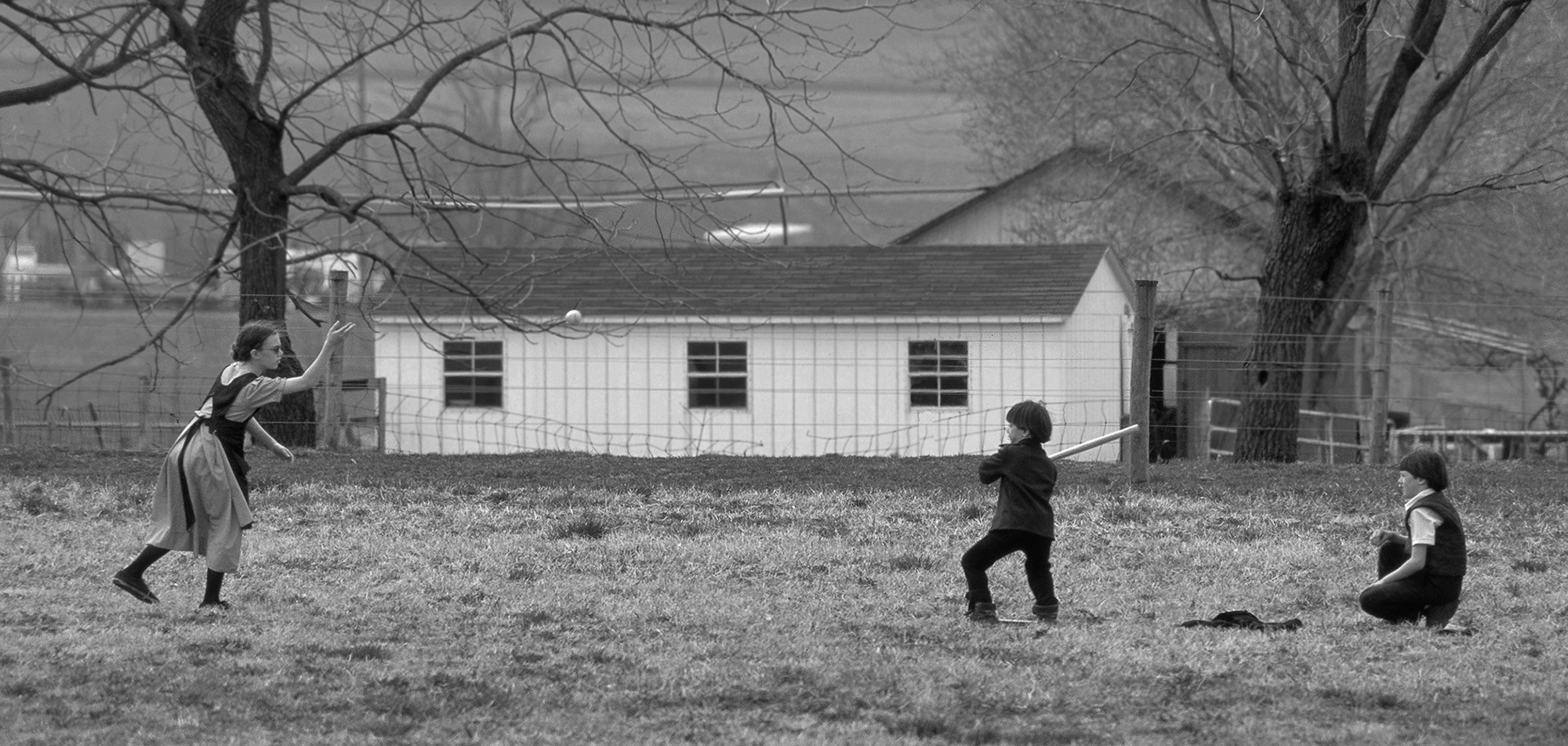 Amish 26 - B, Lancaster County, PA, 2001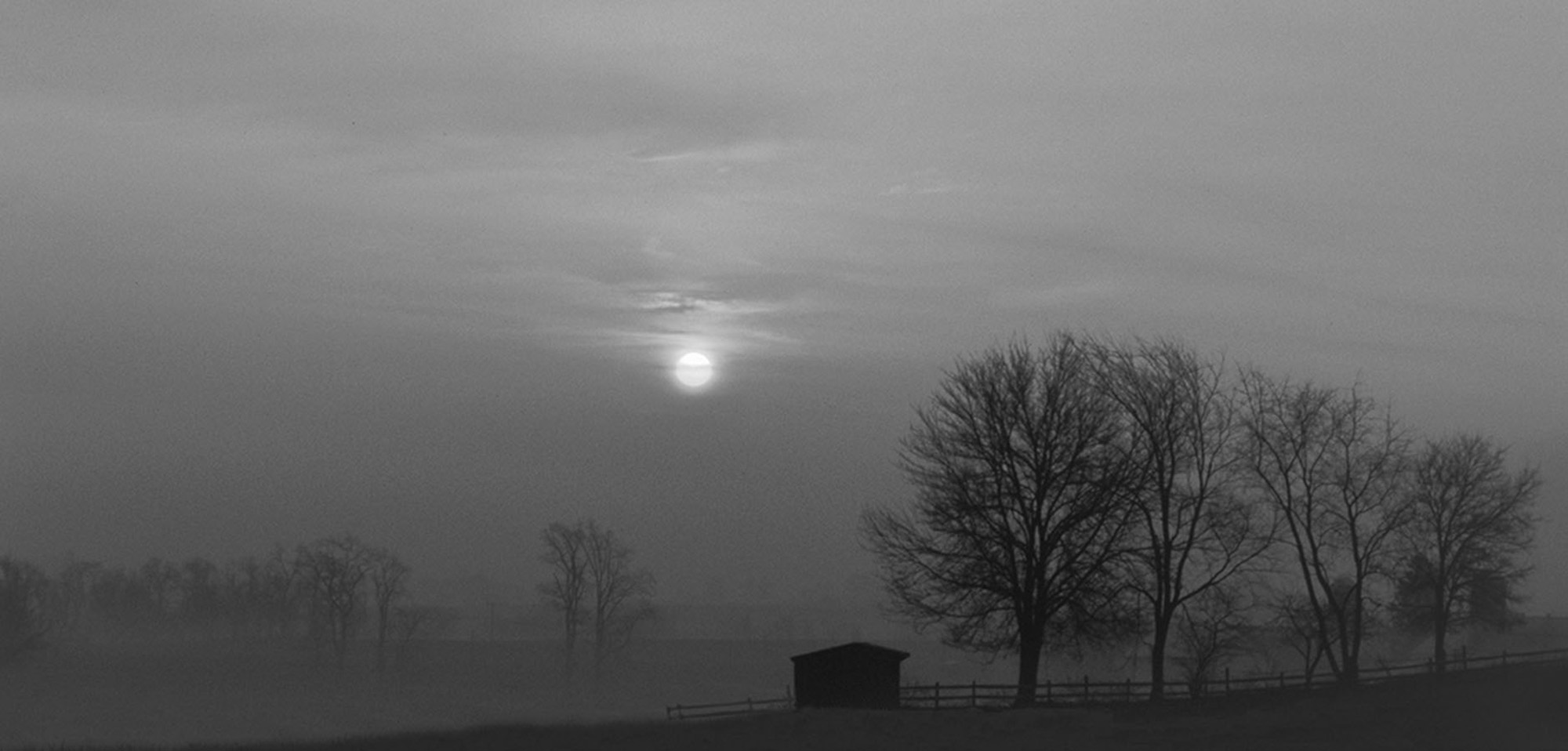 Amish 27, Lancaster County, PA, 2001
Amish 28, Lancaster County, PA, 2001
Amish 33, Holmes County, OH, 2002
Amish 34, Holmes County, OH, 2002
Amish 41, Holmes County, OH, 2002
Amish 42, Holmes County, PA, 2002
Amish 44, Holmes County, OH, 2002
Amish 49, Holmes County, OH, 2002
Amish 52, Holmes County, OH, 2002
Amish 53, Elkhart County, IN, 2002
Amish 54, Elkhart County, IN, 2002
Amish 55, Elkhart County, IN, 2002
Amish 56, Elkhart County, IN, 2002
Amish 62, Elkhart County, IN, 2002
Amish 65, Elkhart County, IN, 2002
Amish 68, Elkhart County, IN, 2002
Amish 72, Lancaster County, PA, 2003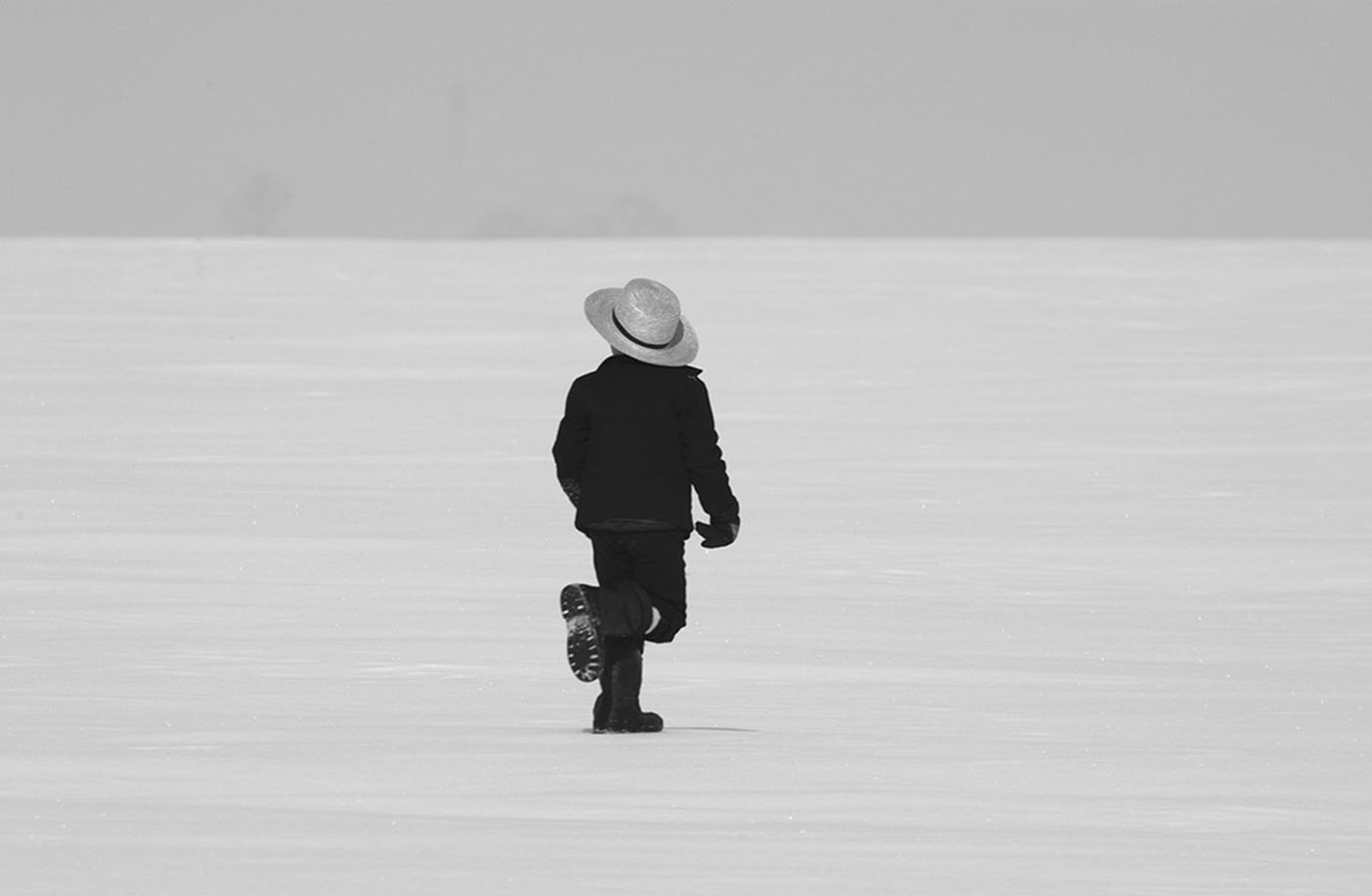 Amish 76, Lancaster County, PA, 2003
Amish 80, Monroe County, WI, 2003
Amish 83, Monroe County, WI, 2003
Amish 84, Monroe County, WI, 2003
Amish 86, Monroe County, WI, 2003
Amish 88, Bedford County, TN, 2003
Amish 92, Bedford County, TN, 2003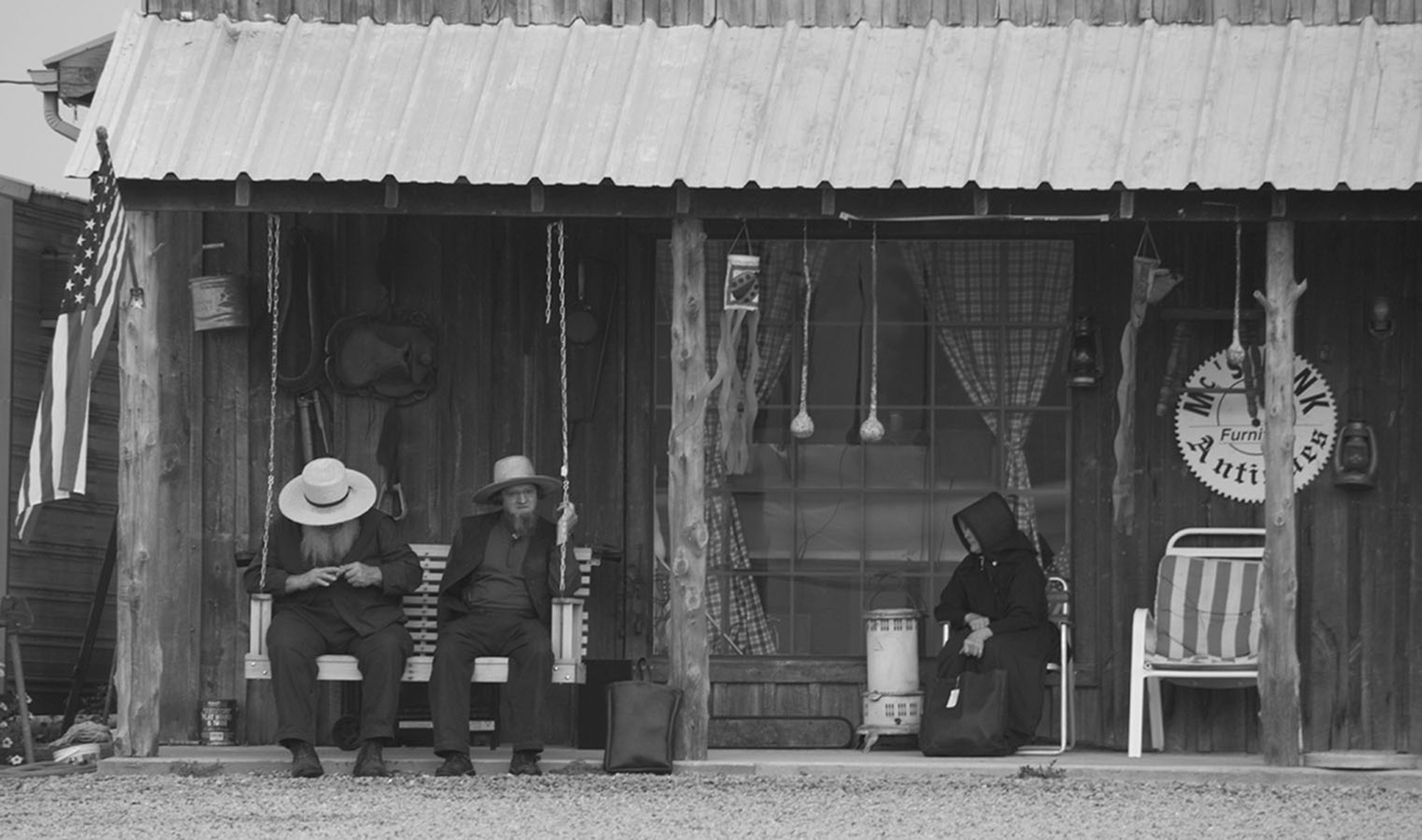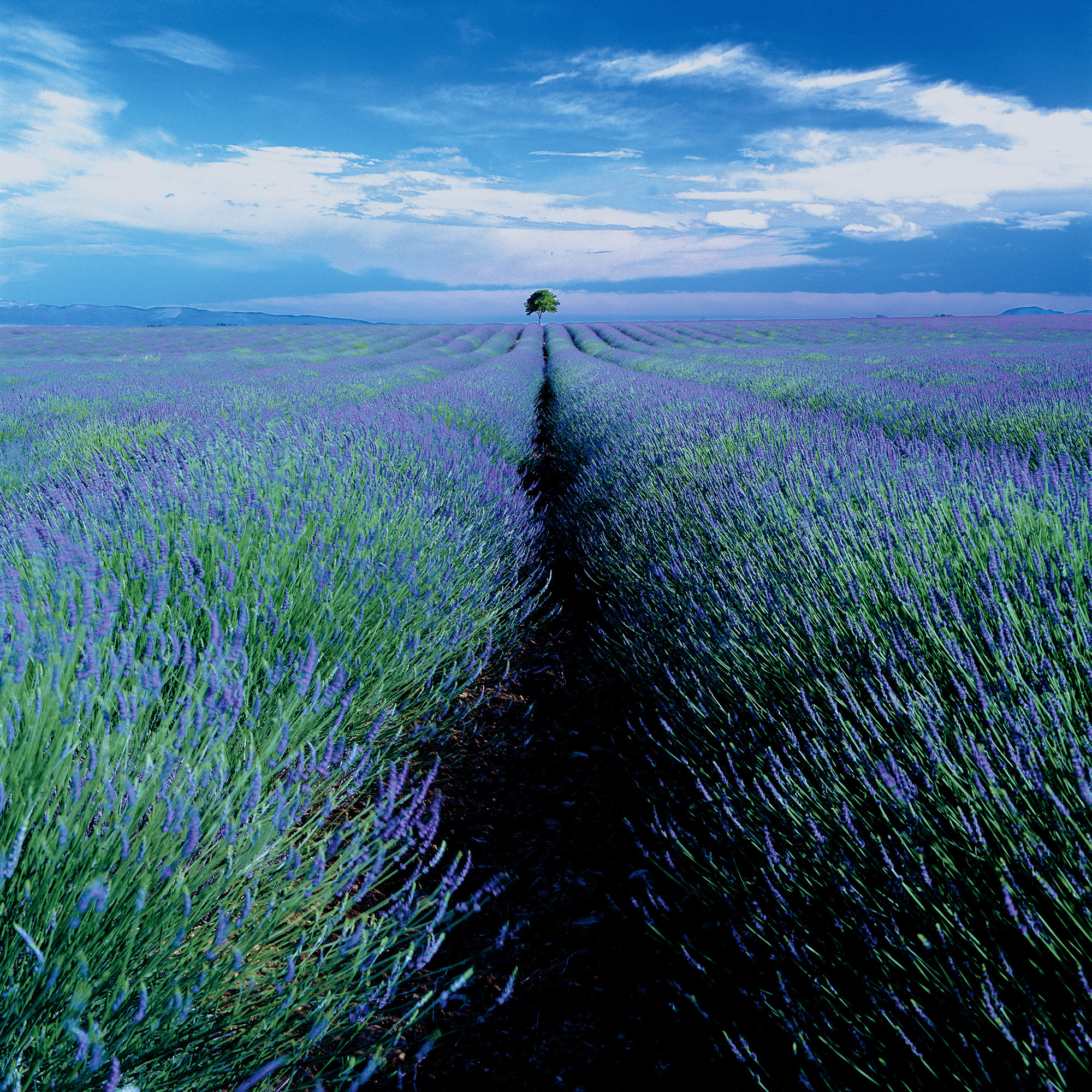 Lavender Field & Lone Tree, Provence, France, 1999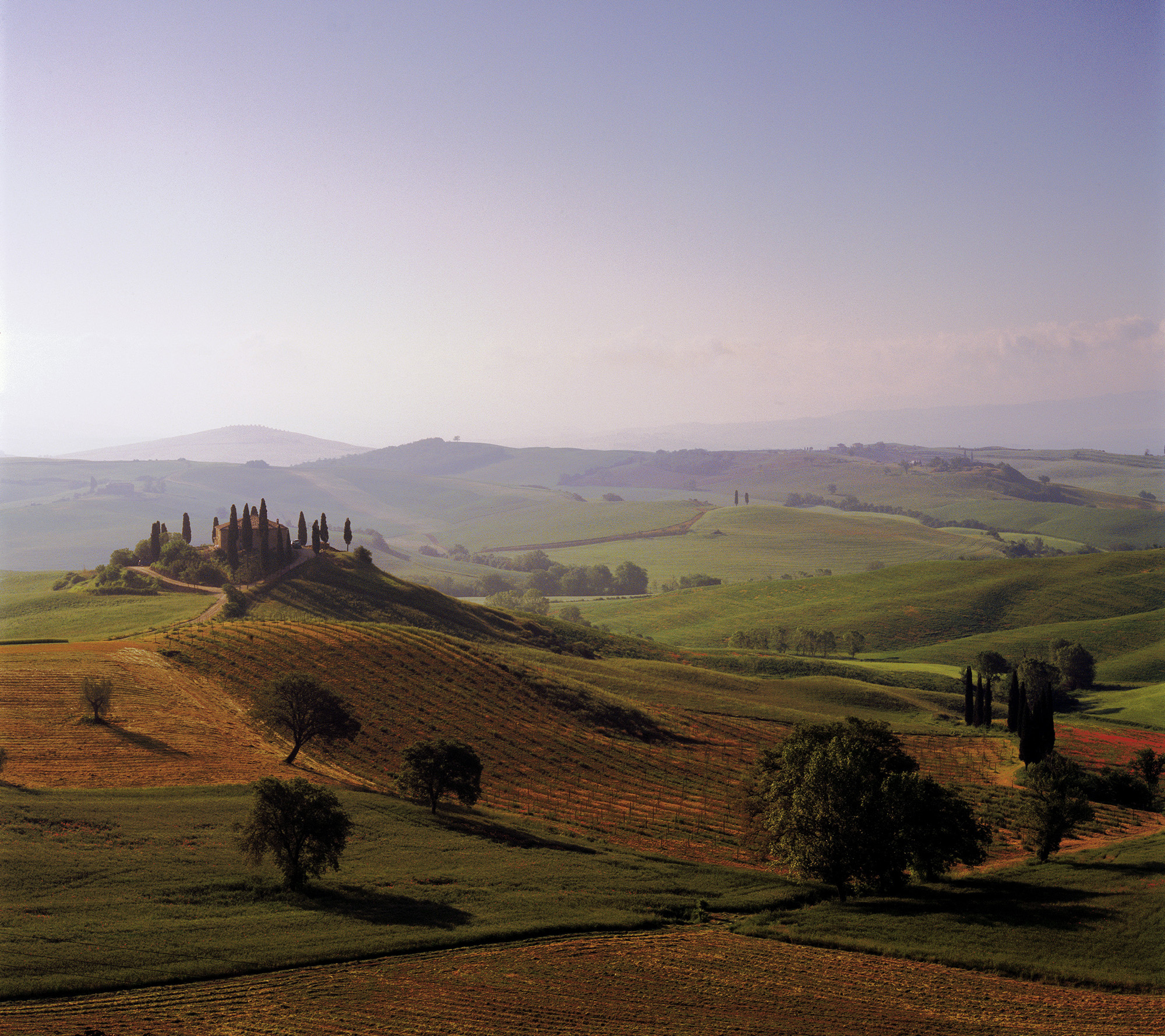 St. Quirico Early Morning, Tuscany, Italy 1997
View of Berkshire, Costwolds, England 1998
Abraye De Senanque, Provence, France 1999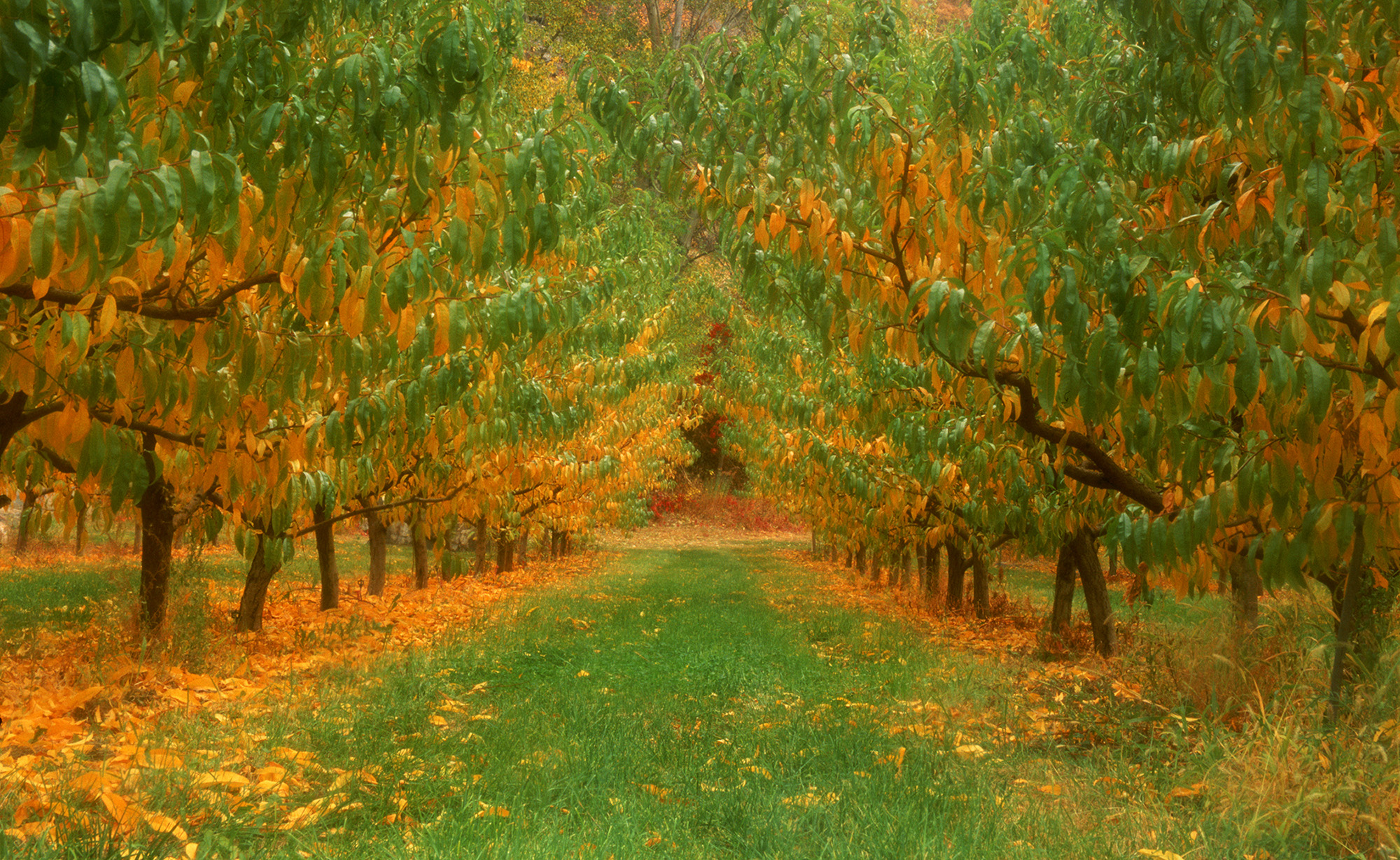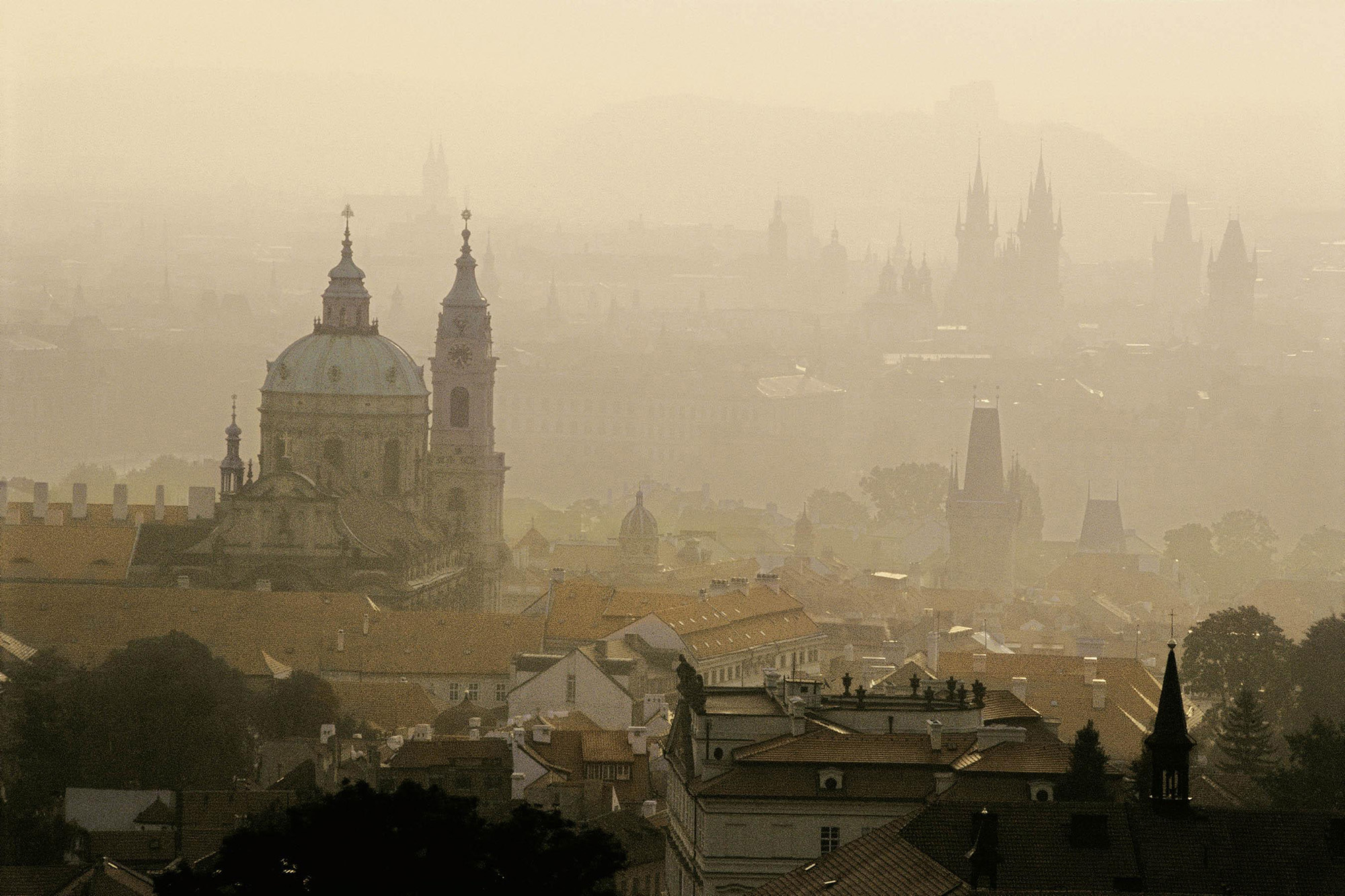 Dawn in Prague, Prague, Czech Republic 1997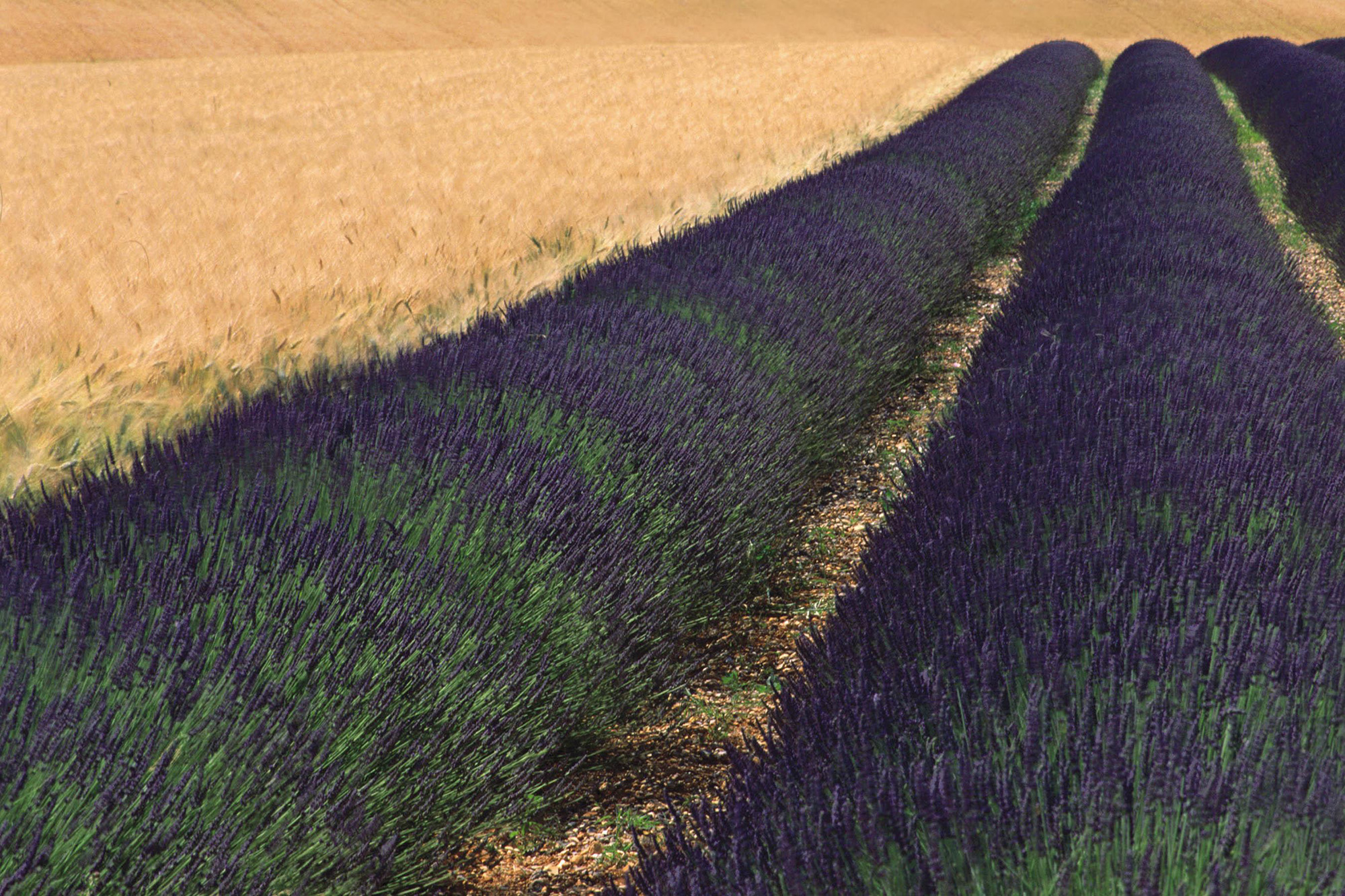 Geometric Lavender & Barley, Provence, France 1999
Golden Bridge, Prague, Czech Republic 1997
Kona Impressions, Hawaii, US 1997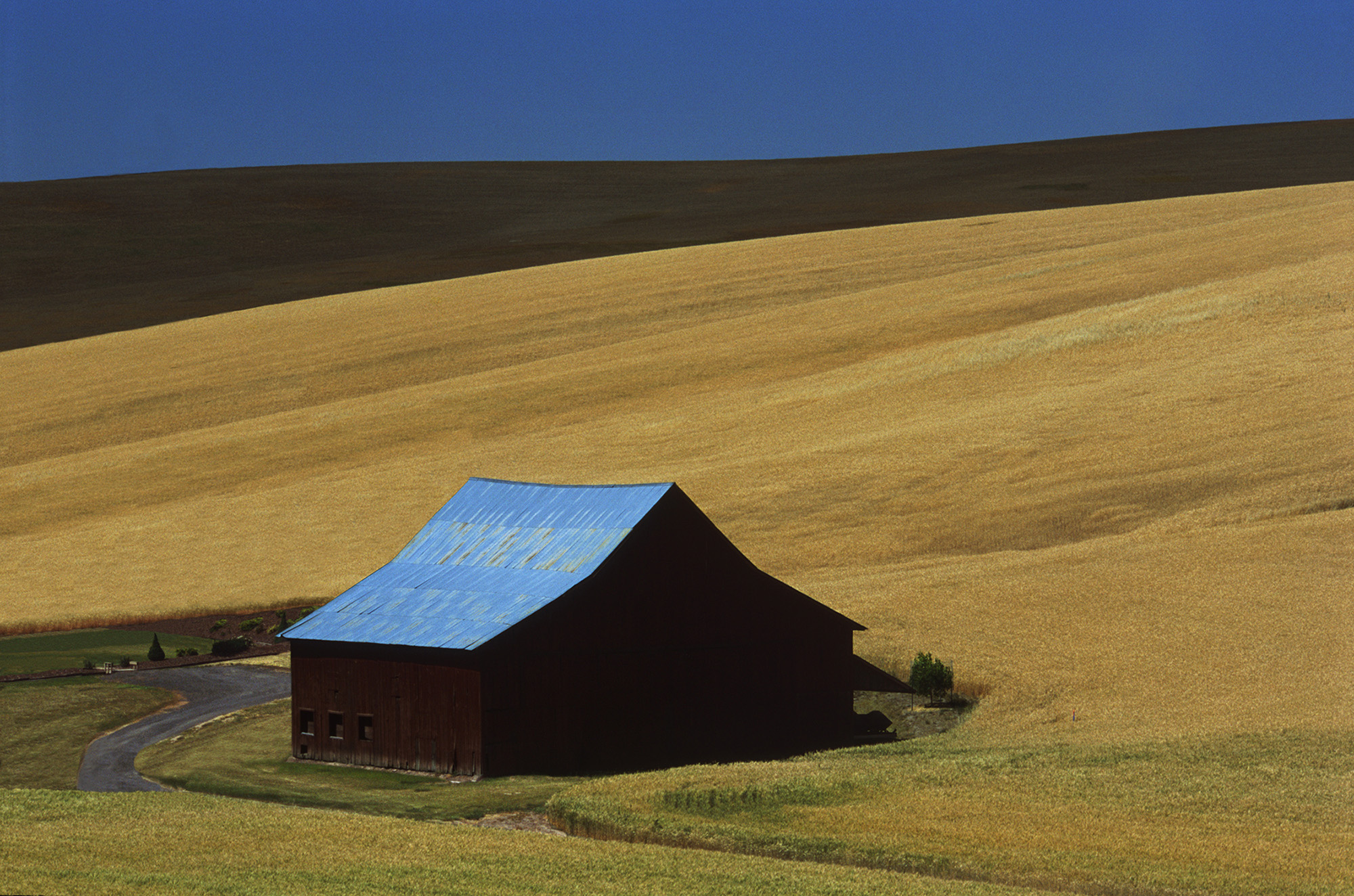 Palouse Pattern #12 (Homage to Hopper), Palouse, WA 2001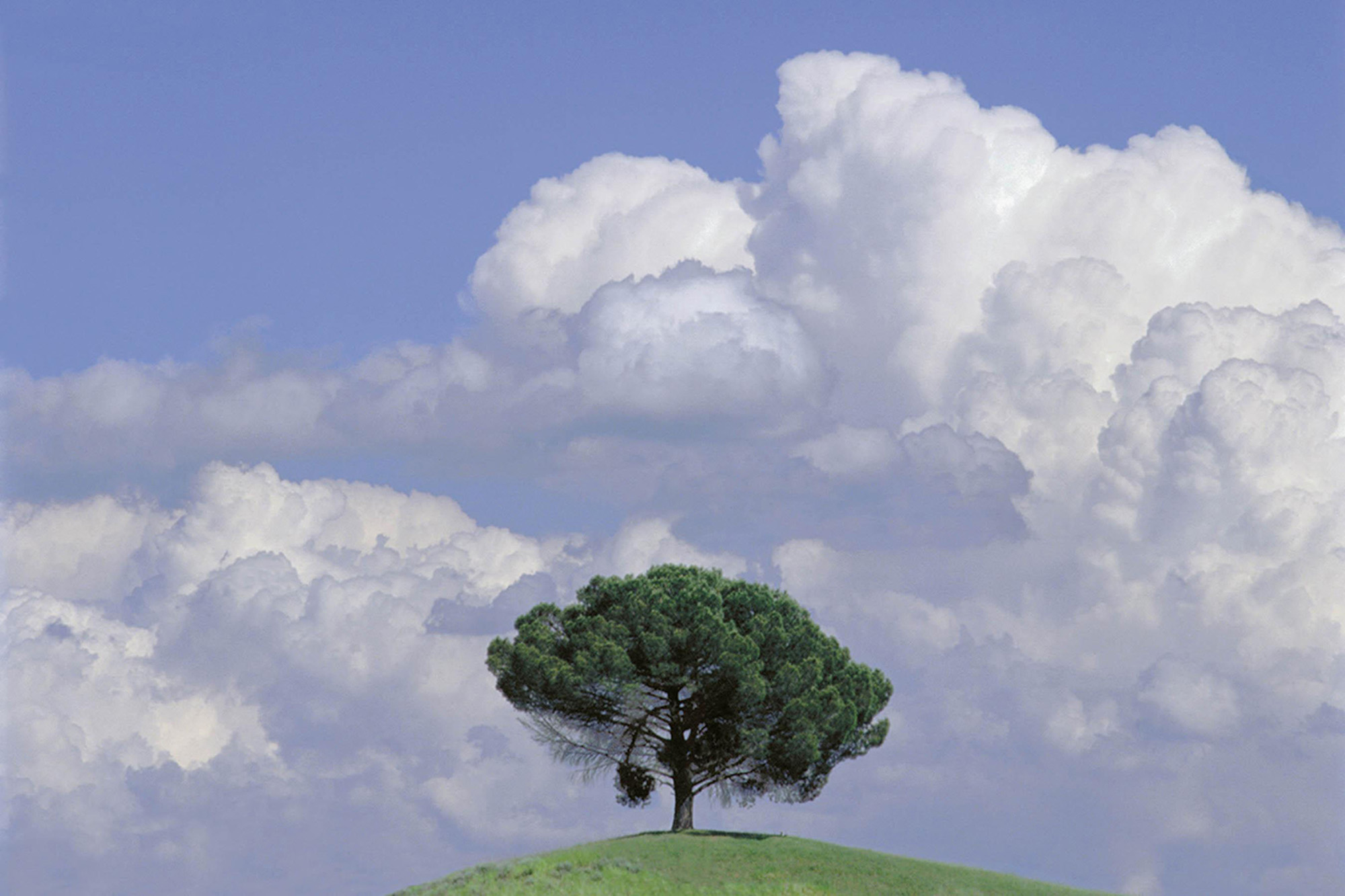 Lone Tree, Tuscany, Italy 1997
Mist of St. Quirico II, Tuscany, Italy 1997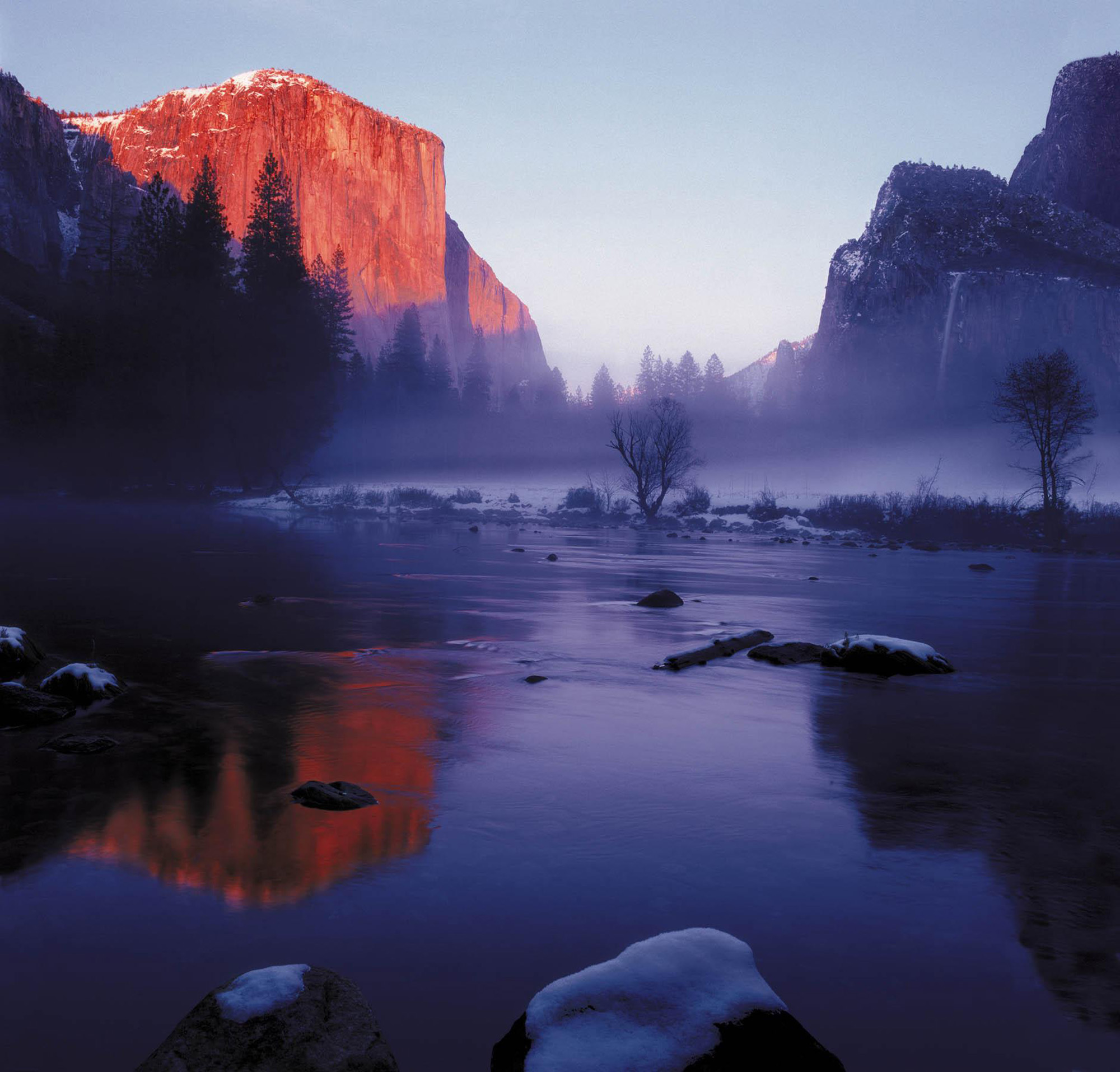 Mist Rising at El Capitan, Yosemite, US 1999
Monet's Dinning Room, Giverny, France 1999
Morning Vineyards, Napa Valley, CA 1997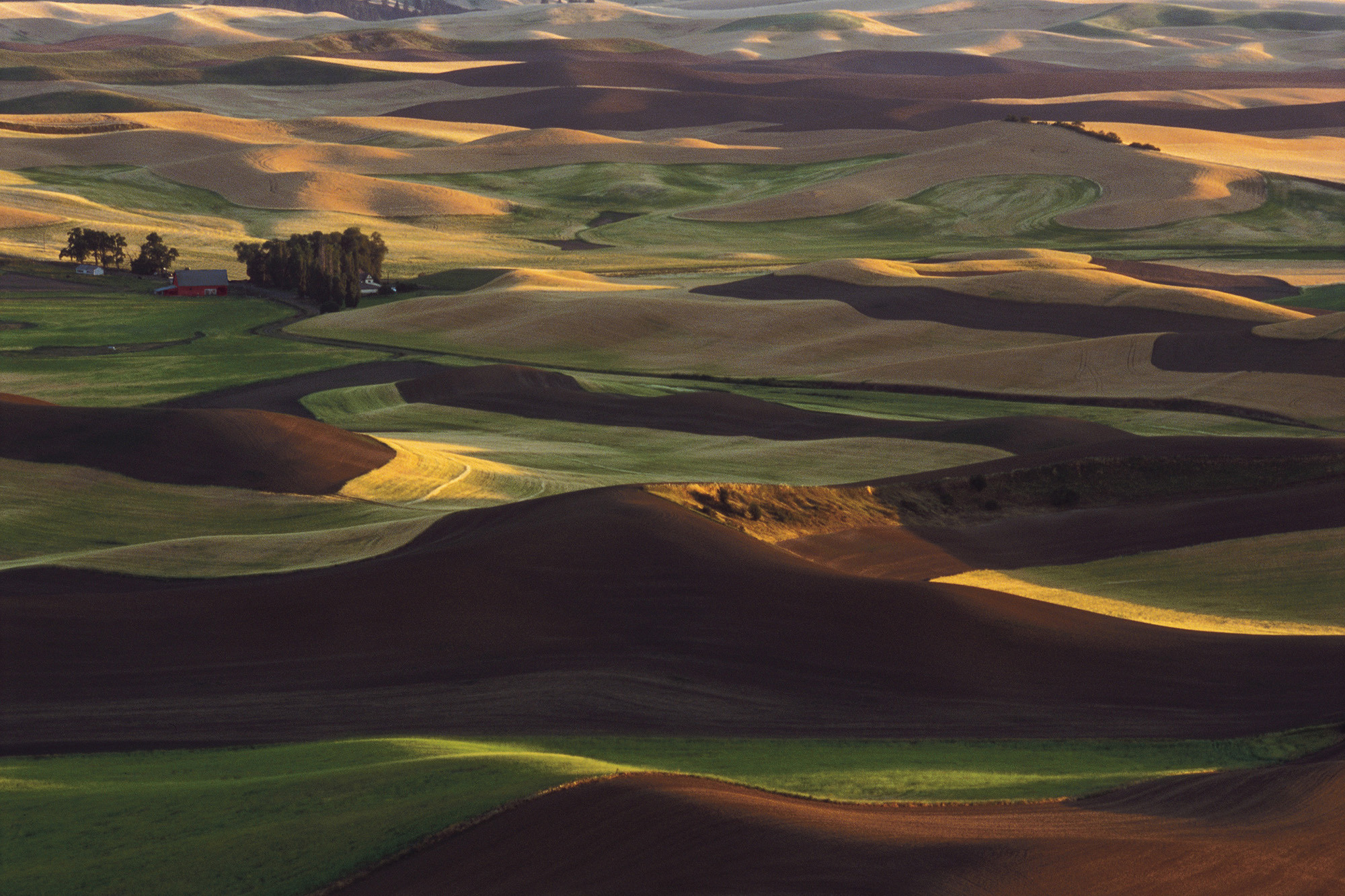 Palouse Pattern #27, Palouse, WA 2001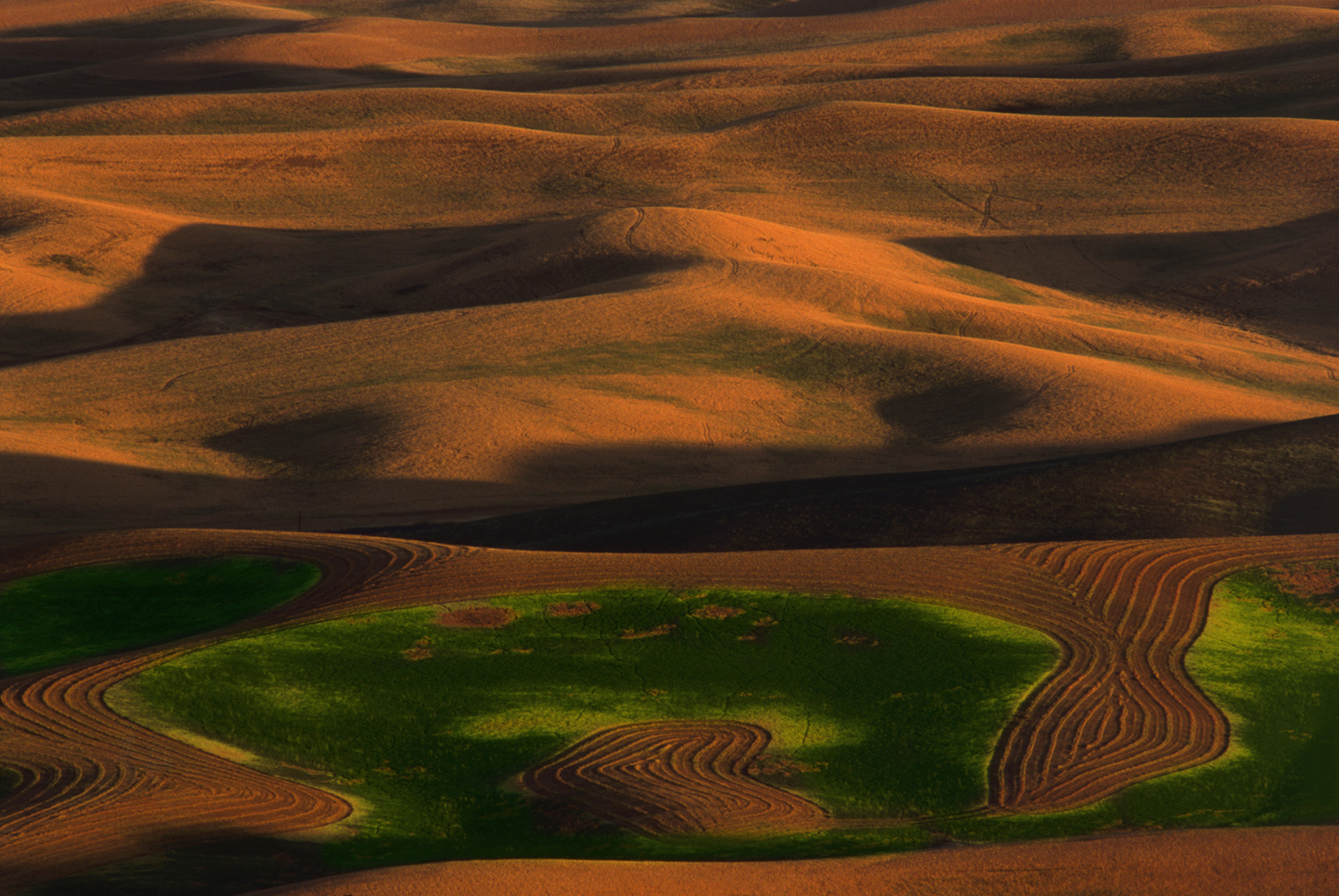 Palouse Pattern #24, Palouse, WA 2001
Scottish Morning #1, Scotland, UK 2001
The Met, Rainy Evening, New York, NY 1998
Water Lilies, Hudson Valley, NY 2000
Trees in Brush Fine, Aspen, CO 1997
Winterpath, Aspen, CO 1998
PENTIMENTO
Robert Weingarten describes Pentimento, his recent body of work, as "a re-affirmation of the power of photographic memory." Beginning with historic photographs that document major events of the last hundred years, Weingarten re-visits the original locations of these pictures and then makes photographs of the site as it exists today. He notes that, in these places, life goes on and there are often no reminders of the profound or tragic events that occurred there in the not so distant past. An Italian painting term, Pentimento is defined as "the presence or emergence of earlier images, forms or strokes that have been changed and painted over." Weingarten's work is a seamless layering of his photographs with the vintage images, a digital process he calls a "translucent composite." In one of these montages, Weingarten blends color views of stately London streets with gritty black and white photos of ambulances, firemen, burning buildings and the rubble of the Blitz of WWII. In another, a ramshackle shantytown, known as a "Hooverville" in the Great Depression, sits in the middle of Central Park in New York, overlaid with contemporary picknickers, strollers, balloons and couples lounging in the sun. In his image of Havana, Weingarten reverses his usual practice of combining vintage black and white with contemporary color. In this case, a recent black and white street
scene is decorated with the brilliantly colored neon
signs that enlivened the street in the pre-Castro era.
– Craig Krull
Archival Pigment Prints on Hahnemühle Photo Rag-Ultra-Smooth, sizes vary.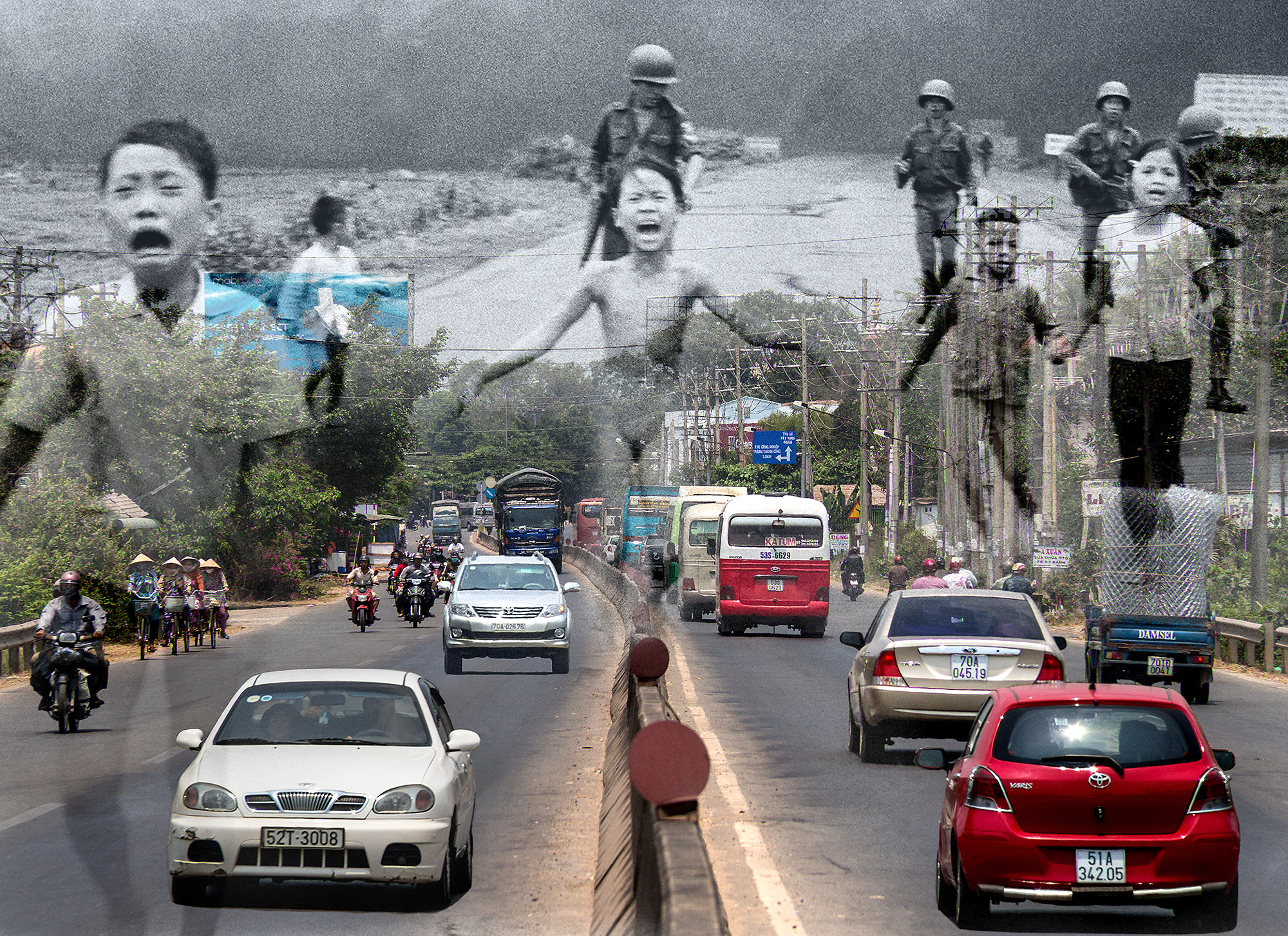 THE PORTRAIT UNBOUND
Weingarten's project represents a bold departure from traditional camera portraiture. In "The Portrait Unbound" Weingarten has created photographs that are highly sophisticated digital compositions of imagery that allude to specific interests, achievements or moments within the subject's life. The result is a unique and compelling composite of images which describes the subject through biographical rather than physical information.
– Julian Cox
 
Images: 40" x 60"
Paper: 44" x 64" /Approx. Epson Ultra-Smooth Fine Art paper
Archival Pigment Prints / Editions of 10
Images: 56" x 84"
Paper: 60" x 88" /Approx. Epson Ultra-Smooth Fine Art paper
Archival Pigment Prints / Editions of 5
PALETTE SERIES
In his search for meaningful subject matter, Robert Weingarten has traveled widely and photographed in remote and unfamiliar parts of the world. Although he is best known as a landscape photographer, his diverse portfolio is unified by his continuous fascination with the effect of light on color. Now, in a new series of large-scale photographs, Weingarten turns his attention to the color palettes of some of the most celebrated artists working today, such as Chuck Close, Eric Fischl, Jasper Johns, Laura Owens, and Ed Ruscha. Made with the scientific precision of high-resolution digital photography, these details of artists' working environments and materials are printed very large—three feet by five feet—transforming the scale of the original scenes into one of chromatic and luminescent drama. Palette Series, which showcases 21 images, is on view at the Corcoran Gallery of Art from July 15 through October 1, 2006.
Palette Seriesis a continuation of Weingarten's ongoing exploration of light and color as seen in his 2003 6:30 AM Series. From his bedroom window in Malibu, California, Weingarten photographed the same view of the Pacific Ocean at 6:30 am almost every day for an entire year. "I realized that what I loved most was the changeability of what I was seeing," says Weingarten. "Every morning is different; the atmospheric changes that occur day to day are what really grab me." Weingarten produced a collection of 137 photographs that expose nature's infinite palette and powerful variability. Palette Seriesevolved directly from this investigation.
"With Palettes, I started wondering how the light that painters work in informs their palette," says Weingarten. "For example, will a Southern California painter, such as Ed Moses, have a brighter, more chromatically intense palette than an artist working in Manhattan?"
In defining "color palettes," Weingarten chose to use that term as broadly as possible. The resulting images comprise a series of photographs taken of anything that could represent an artist's palette. These range from raw materials (such as Ed Rucscha's cotton ball with pigment), drippings on a sink (in Ed Moses' studio), random brush strokes and writing on a wall (in David Salle's studio), an accumulation of paint stains on a table (in Red Grooms' studio), floor drippings (as seen in the studio of Jim Dine) to artists' actual palettes and paintings (as in the case of Jasper Johns, Chuck Close and Fernando Botero).
"The images that make up Robert Weingarten's Palette Seriesare both documentary details of something seen and lyrical abstractions of something felt," says Philip Brookman, Chief Curator at the Corcoran Gallery of Art. "Weingarten performs an illusionist's sleight-of-hand with these photographs. He lights the original painted surfaces to emphasize their texture, excavating microcosmic landscapes of color from artists' workspaces."
Over the course of producing this ambitious series, Weingarten came to the realization that there was no correlation between an artist's palette and the light in which he or she works. The darkest palette was used by Ed Moses, who works outdoors in the full sunlight of Southern California. The lightest and most pastel-like palette was that of Richard Estes, who paints in New York City.
Images: 40" x 60"
Paper: 44" x 64"
Epson Ultra-Smooth Fine Art paper Pigment Prints
Editions of 10
PALETTE SERIES ARTIFACTS
In addition to photographing palettes, Weingarten often found himself making images in the artists' studios that did not quite fit the definition of the palette project, but revealed other aspects of the artists' and their studios. His photographs of Chuck Arnoldi's paint encrusted shoes and Wayne Thiebaud's paint smeared paper plates are part of a complementary series the artist calls "artifacts".
Image: 17 x 26 in
Paper: 21 x 30 in /Epson Ultra-Smooth Fine Art paper
Archival Pigment Prints / Editions of 33
JACKSON POLLOCK SUITE
After working on the Palette Series, Weingarten was drawn to the small studio on the banks of the Accabonac Creek near East Hampton, New York. This site was the home and working studio of Jackson Pollock and his wife and fellow artist Lee Krasner. The art that was created there is known as some of the most influential work in the Abstract Expressionist movement.
After the death of Pollock and Krasner this historic property was bequeathed to the Stony Brook Foundation. Upon their examination of the existing floors, they found when removing the first layer of masonite the remaining under-flooring (of both the house and barn studios) revealed a heavy residue from the dynamic painting style of Jackson Pollock. Later it was found that the spattered paint could actually be identified with specific works of art, connecting the color and type of paint used on the artwork to the paint on the floor.
Weingarten saw this environment as a perfect extension to the Pallet Series he had been working on for several years. He was granted rare permission from the foundation's curator to have personal access to the property solely for creating this body of work.
Images: 44" x 64"
Paper: 44" x 64" /Approx. Epson Ultra-Smooth Fine Art paper
Archival Pigment Prints / Editions of 10
WOOSTER WILD STYLE WALL
Images taken at 149 Wooster, NYC.
Wall uncovered with street drawings by Jean Michel Basquiat, Freddy Fab 5 – Futurama 2000 – Nesto & Ramwell Zee.
Archival Pigment Prints - Hahnemühle Photo Rag –Ultra Smooth 305 gsm. Sizes vary.
6.30 A.M.
After making test pictures from various points around his ocean view home in Malibu, he decided to turn his normal working procedure upside down and inside out by creating a set of strict rules of engagement with the motif. The subject would be sky, sea, and city observed over the course of one year, beginning on January 1 and ending on December 31, 2003, and would be advanced every day he was at home. A number of key artistic decisions governed the outcome of the project. Weingarten established a single viewpoint, looking southeast over Santa Monica Bay, from which every photograph in the series would be made with the camera in exactly the same position.
Each exposure would be made at precisely the same time of day - 6:30 am - measured by one quartz clock. All exposures would be made with the lens focused on infinity and at the same aperture of f/22. Just two variables were allowed into this disciplined scheme: the shutter speed of the lens, which would be adjusted faster or slower depending on the quantity and quality of light available at 6:30 a.m. each day; and, the most variable element of all, changes in the scene that were introduced by the forces of nature.-Weston Naef, Curator of Photographs, The J. Paul Getty Museum. For full text of Weston Naef's article click on this link: WN Article PDF.
30"x30" images
34"x34" paper size
40"x40" images
44"x44" paper size
Archival Pigment Prints on Somerset Velvet Fine Art
AMISH SERIES
ANOTHER AMERICA
ROBERT WEINGARTEN'S TESTIMONIAL TO THE AMISH
Robert Weingarten's photographs of Amish communities are riveting testaments to the enduring virtues of this religious group's spiritual and bucolic lifestyle. His black-and-white images of the pastoral landscape are in perfect accord with the Amish's profoundly simple faith. In the broad spectrum of photographic grays that exists between the darkest black and the brightest white, this California photographer has eloquently evoked the rich and subtle harmonies of a people who shy from everything modern and worldly while cherishing the traditional, the spiritual, and the teachings of the Bible.
Like the Pilgrims and Puritans, the Amish migrated to America in search of religious freedom; but unlike other denominations, most Amish have retained the plain black dress, the horse-drawn carriages, the manual tools, and the vernacular architecture of their ancestors. They stress personal humility, honor family and community values, and maintain a fairly strict isolation from contemporary society. Amish culture has been primarily based in agriculture, and the larger of their settlements are found in rural areas of Pennsylvania, New York, Ohio, Indiana, Tennessee, Illinois, and Iowa. Largely due to their own proscription against making graven images, the Amish remain unique and unfamiliar, hidden in plain view to our modern world.
Robert Weingarten grew up in Brooklyn where he developed a superb sense of visual design as well as an abiding passion for the art of photography. For the past three years, he has traveled to various Amish communities in search of photographing both picturesque scenery and a rich, unchanging culture. His images are romantic, certainly, but they also respectfully bear witness to a very special way of life – farm houses quietly shrouded in early morning mist, graphic arrays of empty carriages, rustic textures of weathered barns and silos, uniformed young girls attending school, and gravely thoughtful adults at country auctions are just some of the subjects he shares with us. And we are that much richer because of him.
– Robert A. Sobieszek
All black-and-white and color prints are Pigment prints. Images sizes vary. Paper size 15.5" x 19.5". Pigment print on Somerset Velvet Enhanced paper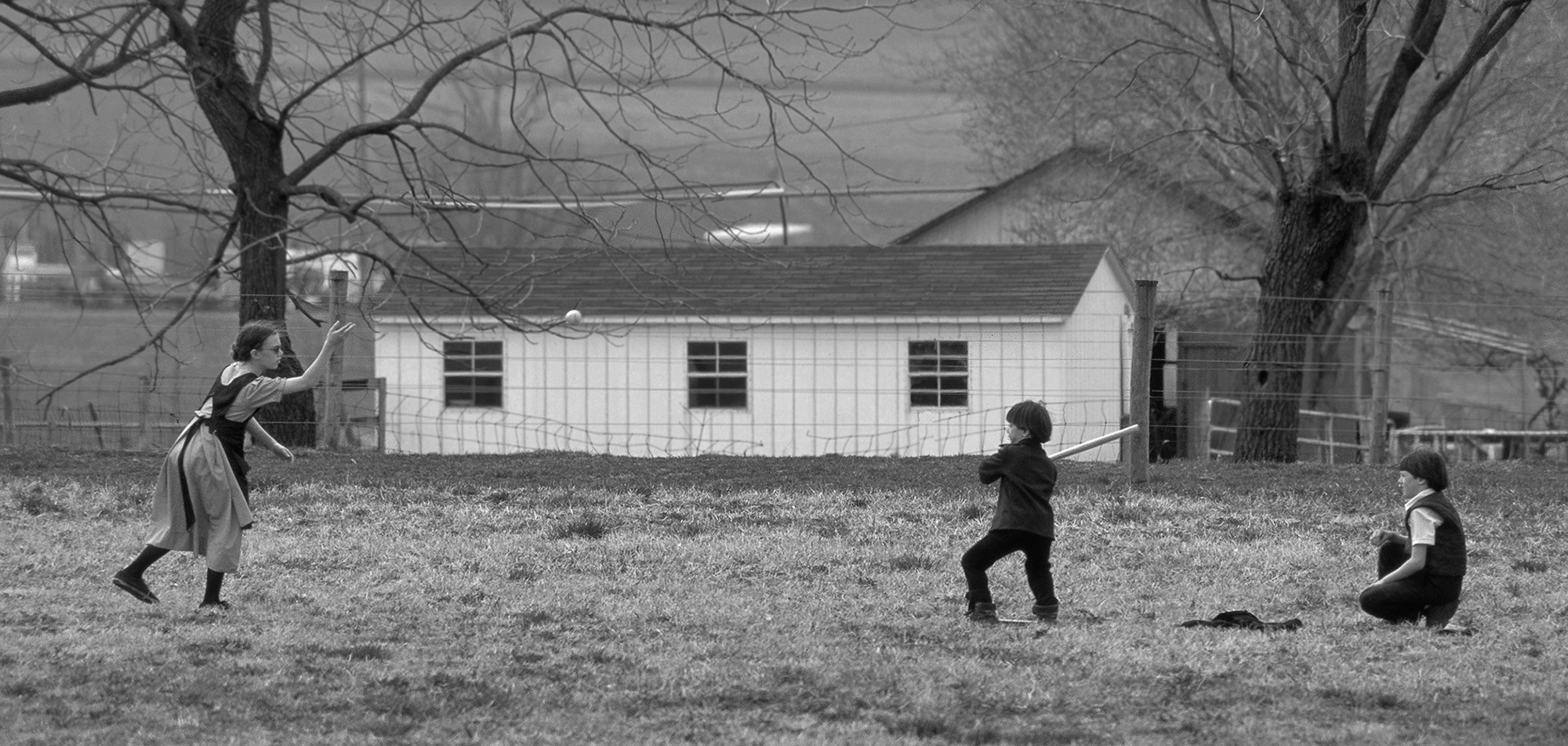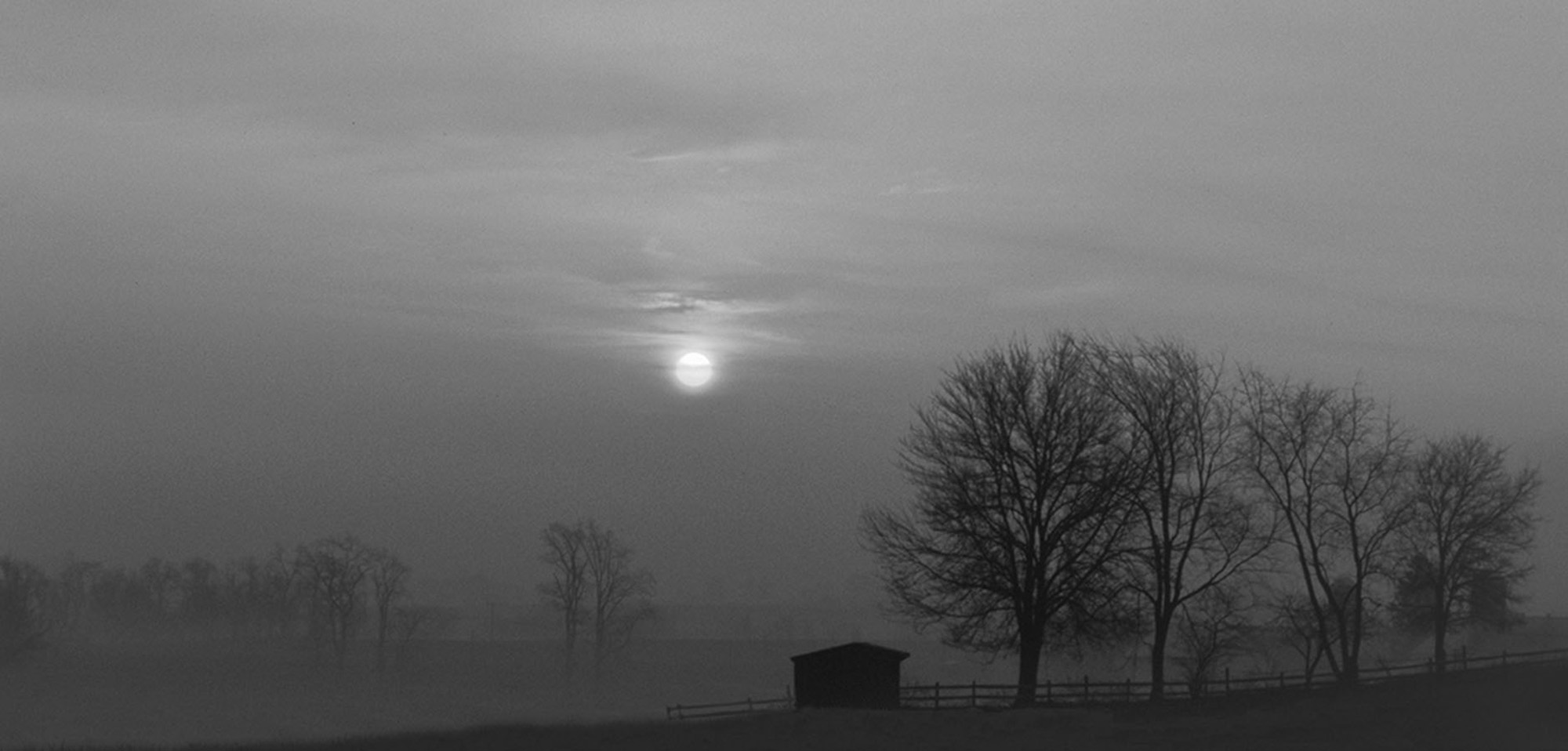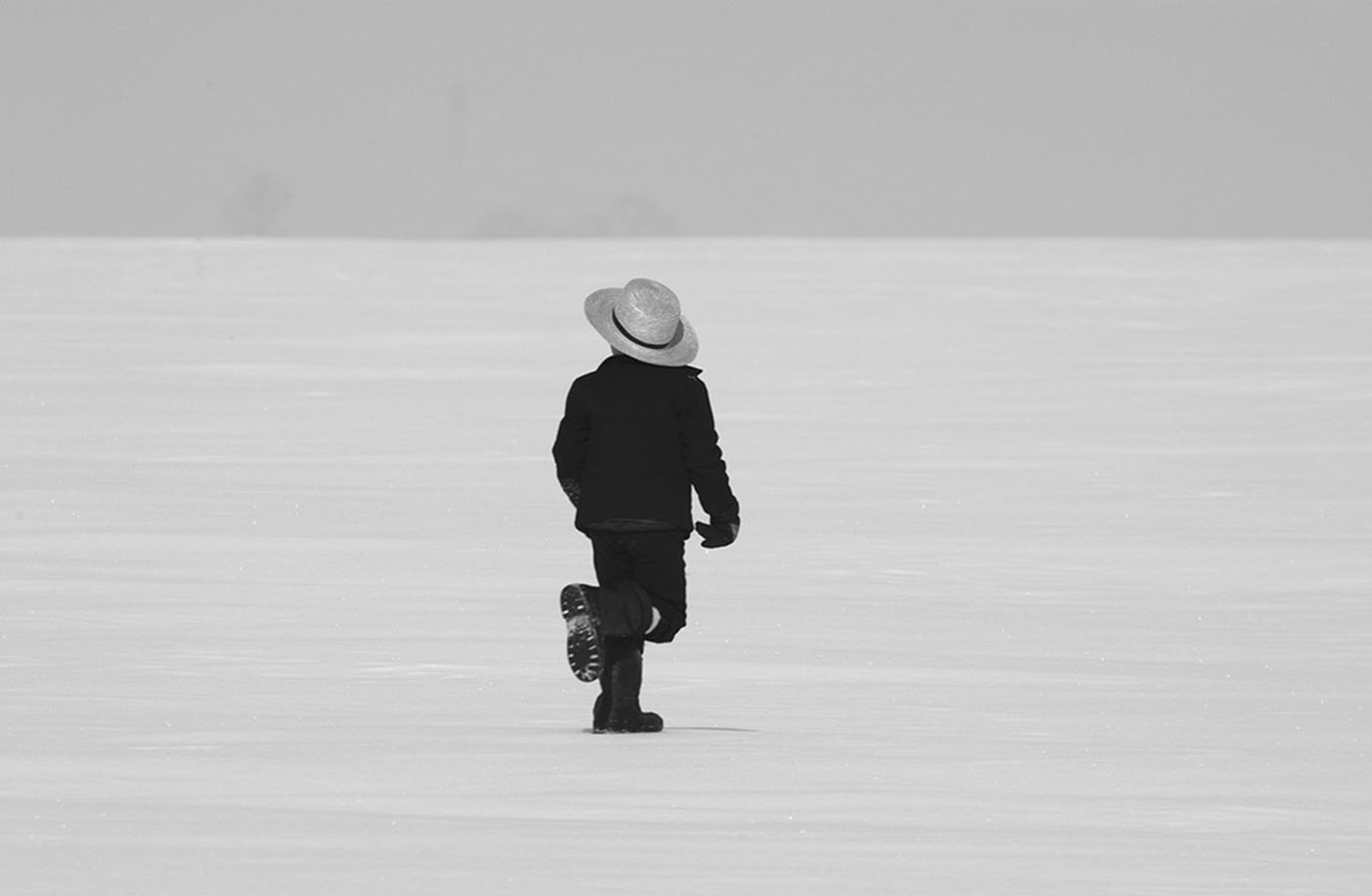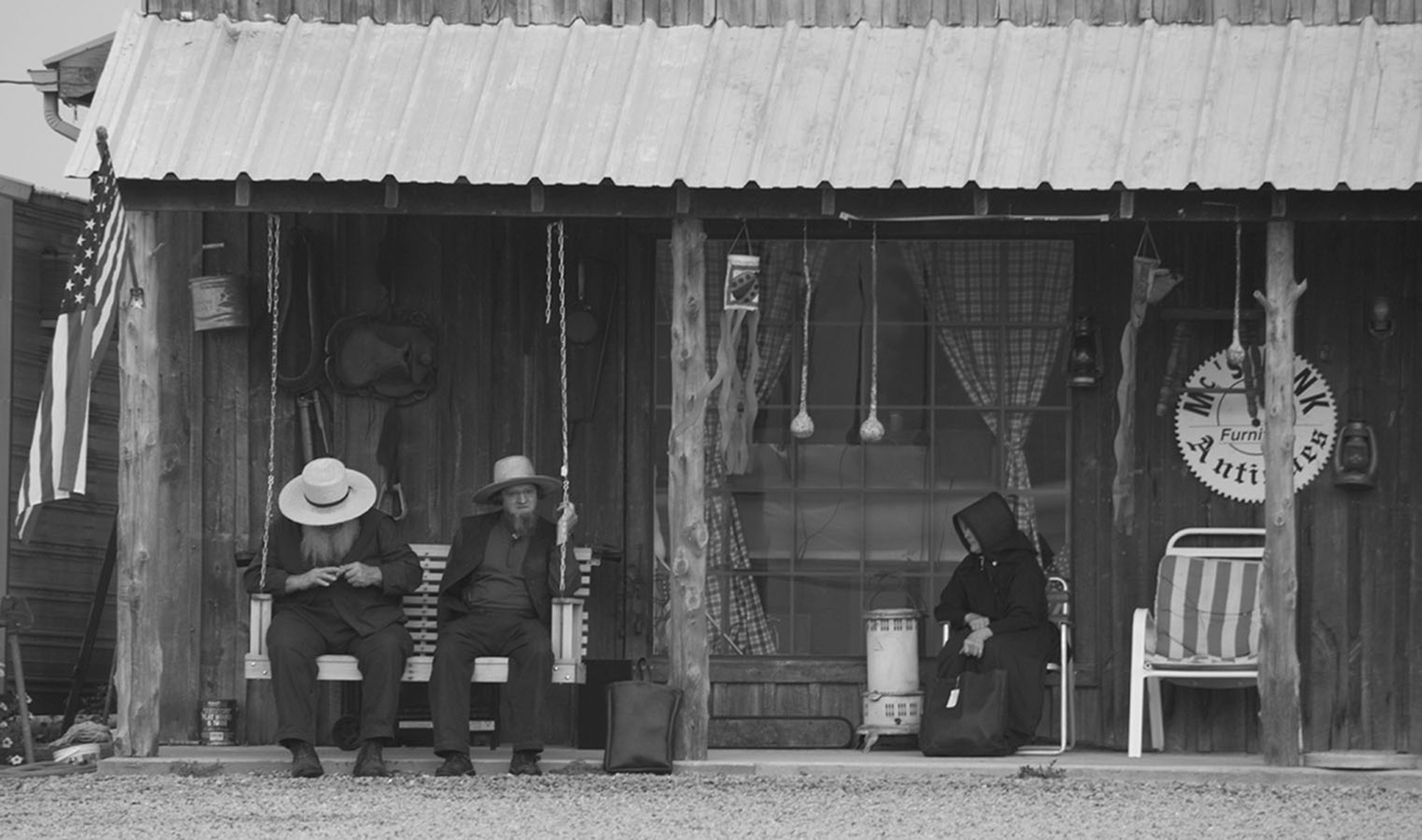 LANDSCAPES
It is widely accepted that Joseph Nicephore Nièpce created the world's first photograph in 1826. View from Window at Gras is a grainy, monochromatic image of rooftops, revealing a faint horizon line in its muted distance. From this one image, photography celebrates the inauguration of its most revered subject, the landscape.
The natural connection between man, the camera and the landscape has been evolving ever since that 1826 heliography. Artists after artists have added their contribution of ideas and perspectives the image of the landscape, creating some of the most inspiring works we have viewed. Ansel Adams profoundly documented the majestic Yosemite Valley, and Edward Weston transformed our experience of the rocks, sea and coast at Point Lobos.
Weingarten's work embraces bits and pieces of this heritage, absorbed by an artist who has a passion for the land and nature he works with.
Robert Weingarten interprets landscape as a collage of color and form, creating the distilled imagery that is uniquely his own. His sense of color seems to be derived from the painter's palette. Soft blends tint timeless Renaissance skies. Brightly saturated hues accent the images with sensitive precision.
Robert sees in ways that capture the beautiful, accentuate the form and leave us with a curiosity to gaze more purposefully at the world around us.
– Dennis High, Curator
Pigment prints on Epson Somerset Velvet Fine Art
Editions of 25 & 33